Do you have a fast trigger finger?
Catch the most BUSHIDOs and you will enter the weekly competition for 300 Coins.
How to play
Click and catch as many BUSHIDOs as possible
The more BUSHIDOs you catch, the bigger the chances of winning the draw.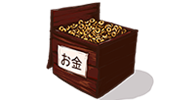 This week's prize
300 Coins
This week's TOP 10
No highscores have been set yet - you can be the first.
Overall TOP 10
Johanne, Denmark
278 BUSHIDOs
Anette, Denmark
241 BUSHIDOs
Patryk, Finland
240 BUSHIDOs
Patryk, Finland
237 BUSHIDOs
Patryk, Finland
237 BUSHIDOs
Patryk, Finland
237 BUSHIDOs
Patryk, Finland
232 BUSHIDOs
Anette, Denmark
231 BUSHIDOs
Patryk, Finland
228 BUSHIDOs
Johanne, Denmark
228 BUSHIDOs